What is a Roller Banner?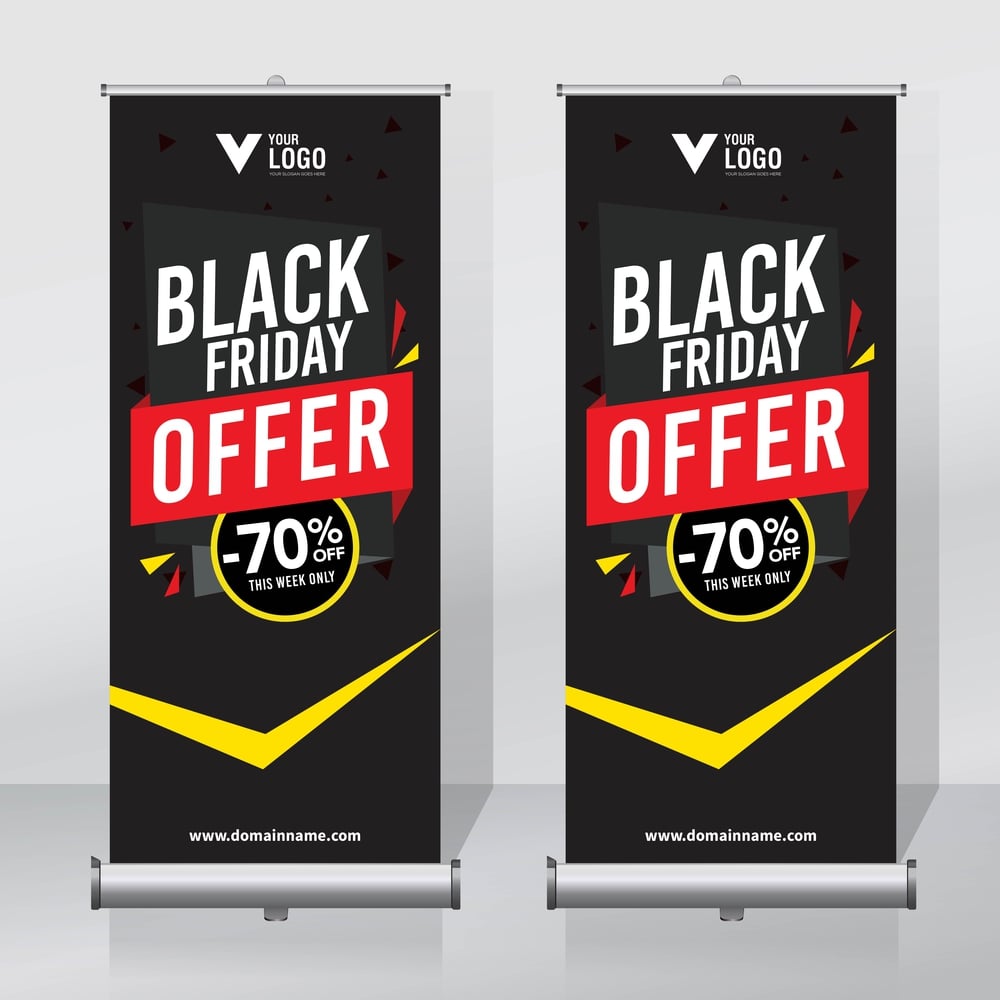 Introduction
Roller banners, also known as pull-up banners or roll-up banners, are portable and retractable advertising displays commonly used for promotional events, trade shows, conferences, and retail spaces. These banners consist of a printed graphic panel that is attached to a spring-loaded roller mechanism. The banner can be easily pulled up from the base and secured in place, creating a vertical display. Roller banners are popular due to their convenience, portability, and ease of setup. They are an effective marketing tool for showcasing products, services, or brand messages in a visually appealing manner.
Why Choose a Roller Banner?
Choosing the right roller banner for your promotion involves considering several factors to ensure that the banner effectively communicates your message and attracts your target audience.
Lightweight and portable: Roller banners are lightweight and portable, making them easy to transport to different events and locations. They come with a carrying case, making it convenient to carry them around.
Quick and easy to assemble: Setting up a roller banner is quick and straightforward. It takes only a few moments to pull up the banner and secure it in place. This ease of setup saves time and effort.
Space efficient: Roller banners utilise vertical space, making them ideal for crowded or limited spaces where traditional displays might not fit. They provide a significant visual impact without taking up much floor space.
Custom design: Roller banners can be customised with various designs, colours, and messages. This allows businesses to tailor their banners to specific marketing campaigns, promotions, or events, creating a unique and eye-catching display.
Affordable: Compared to other forms of advertising, roller banners are relatively affordable. They offer a high return on investment, especially for small businesses or individuals with budget constraints.
Reusable: Roller banners are durable and designed for multiple uses. They can be used for different events and occasions, making them a cost-effective option in the long run.
Visibility: The vertical orientation and eye-level placement of roller banners make them highly visible to attendees at events and trade shows. This increased visibility enhances the chances of attracting potential customers and generating leads.
Professional appearance: Roller banners provide a sleek and professional appearance to any display. High-quality graphics and materials ensure that the banner represents the brand or message effectively, creating a positive impression on viewers.
Which Roller Banner Should I Purchase?
Purchasing the right roller banner for your promotion involves considering several factors to ensure that the banner effectively communicates your message and attracts your target audience.
Top Ten Uses for Roller Banners
Roller banners are versatile marketing tools that can be used in a variety of settings. Here are the top ten uses for roller banners:
Trade Shows and Exhibitions: Roller banners are a staple at trade shows and exhibitions, providing businesses with an eye-catching way to showcase their products and services to a large audience.
Retail Stores and Showrooms: Retailers use roller banners to highlight sales, promotions, or new arrivals within their stores. They can be placed strategically to attract customers' attention.
Conferences and Seminars: Roller banners are commonly used at conferences and seminars to display sponsors' logos, event schedules, or important information for attendees.
Presentations and Business Meetings: In business meetings or presentations, roller banners can serve as visual aids, displaying key points, statistics, or graphics that compliment the speaker's message.
Product Launches: When launching a new product, roller banners can be used to create buzz and excitement. They can feature product images, specifications, and promotional offers.
Promotional Events and Campaigns: Roller banners are excellent tools for promoting special events, discounts, or limited-time offers. They can be placed outside the venue or in high-traffic areas to attract attention.
Educational Institutions: Schools, colleges, and universities use roller banners to promote upcoming events, open days, or specific courses. They can also be used during career fairs.
Healthcare and Wellness Clinics: Healthcare providers use roller banners to inform patients about new services, health awareness campaigns, or seasonal vaccination drives.
Non-Profit Charity Events: Non-profit organisations use roller banners to create awareness about their causes, fundraising events, or volunteer opportunities. Compelling visuals and messages can inspire support.
Outdoor Events and Festivals: Roller banners designed for outdoor use can be employed at festivals, farmers' markets, sports events, and community gatherings to promote sponsors, activities, or local businesses.

Roller Banner Uses for Private Occasions
Weddings: Create elegant roller banners to display the love story of the couple, the order of events, or a seating chart. Banners can also feature memorable photographs or engagement pictures.
Birthday Parties: Design roller banners with fun facts about the birthday person, childhood photos, or a timeline of significant events. They can serve as great conversation starters at the party.
Anniversaries: Celebrate milestone anniversaries with roller banners that showcase the couple's journey together. Include photos from various years, memorable quotes, and well-wishes from friends and family.
Graduation Parties: Commemorate the graduate's achievements with roller banners displaying their academic journey, accomplishments, and future aspirations. It can also serve as a backdrop for photos
Retirement Parties: Honour retirees with a roller banner that highlights their career achievements, hobbies, and well-wishes from colleagues. It's a thoughtful way to celebrate their professional journey.
Baby Showers: Create adorable roller banners featuring baby-related quotes, ultrasound images, or a countdown to the due date. They can also include a baby name poll or parenting tips.
Family Reunions: Use roller banners to display the family tree, historical photos, or a schedule of events for the reunion. It helps in creating a sense of belonging and unity among family members.
Memorial Services: Design tasteful roller banners to honour the memory of a loved one. Include photos, meaningful quotes, and a brief biography. It can serve as a heartfelt tribute during the service.
Holiday Parties: Customise roller banners for themed holiday parties. For example, for a Halloween party, design banners with spooky graphics and party rules. For Christmas, showcase family traditions and festive messages.
Surprise Parties: Use roller banners strategically to reveal the surprise. They can contain a countdown, hints, or messages leading up to the big reveal. It builds excitement and anticipation among guests.
How to Assemble Roller Banners?
Assembling a roller banner is a quick and straightforward process that can be completed by one person with ease. Here is a general guide for setting up most roller banners:
Unpack the Roller Banner: Start by unpacking the roller banner from its carrying case or box. Lay out all the components on a flat surface.
Extend the Pole: Most roller banners come with a telescopic pole. Extend the pole to its full height.
Attach the Pole: Insert the extended pole into the designated slot on the back of the banner stand. Ensure it fits securely.
Pull Out the Graphics: Gently pull the banner graphic out of the base. The banner is usually attached to the top of the pole.
Secure the Supporting Rod: Some roller banners have a support rod that needs to be attached to the back of the banner. Slide it into the provided slot to provide additional stability.
Adjust the Height: If your roller banner has an adjustable height feature, make sure to set it at the desired level.
Secure the Base: If your roller banner has twist-out feet or adjustable feet, make sure they are securely positioned to provide stability, especially on uneven surfaces.
Stand Up the Banner: Carefully stand up the banner, ensuring it is straight and upright.
Check the Tension: If your banner has tensioning features, adjust them to ensure the banner is taut and free of wrinkles.
Double-Check the Stability: Give the banner a gentle shake to ensure it is stable and securely assembled.
Your roller banner is now ready for display! Remember to follow any specific instructions provided by the manufacturer for your particular banner model. If you notice the graphic leaning forward, double-check the pole insertion; it might not be properly placed. Another common issue is the banner falling over, which is often due to closed feet. Always ensure the feet are opened wide for stability.

When dismantling the roller banner after use, be cautious. Firmly hold the graphic at the top, as the spring-loaded system exerts force. Carefully guide the graphic back into the roller banner base, holding it steadily to avoid any sudden movements. This controlled approach ensures safe and smooth retraction of the banner for future use.
Conclusion
Roller banners offer a versatile and portable solution for advertising, promotion, and information display. Their user-friendly nature, polished appearance, and travel convenience make them a top choice for businesses, organisations, and individuals across diverse settings. When choosing a roll-up banner, it's crucial to assess the quality of both the base unit and printed graphic, along with selecting the appropriate size for your requirements. With their wide array of applications and potential for significant impact, roll-up banners serve as invaluable tools for effectively communicating your message.

If you've found this guide helpful and would like more information about ordering a roller banner please contact us via email at info@cheapasprints.com or call us on 01922 666 288.